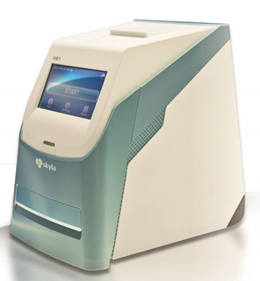 Biochemical analyzer Skyla HB1, manufactured by LITE-ON Technology Corp. (Taiwan), is a compact biochemical analyzer with a wide range of capabilities.  The consuming material of the analyzer is a disposable reagent disk containing all the necessary solvents and reagents that are necessary for performing biochemical tests of whole blood, plasma or blood serum. After the user places 200 μl of sample in the reagent disk and loads it into the analyzer, the whole analysis procedure takes place automatically and takes no more than 15 minutes. Skyla HB1 is ideal for conducting studies on the assessment of critical states and individual functions of organs: liver, kidney, general metabolism, cardiovascular system, pancreas, respiratory system, lipid metabolism, parathyroid gland and various shock conditions.
Analyzer Skyla HB1 has the ability to do the following important biochemical tests:
• 23 measured parameters:
– ALB, ALP, ALT, AMY, AST, BUN, CPK, CREA, DBIL, GGT, GLU, HDL, LIPA, TBIL, TC, TG, TP, UA, Ca, Cl, K, Na, Phos.
• 6 calculated parameters:
– A/G ratio, eGFR, GLOB, IBIL, LDL, VLDL.
Advantages of Skyla HB1: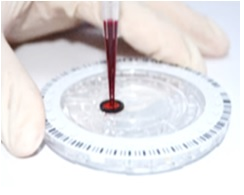 uses reagent disks with automated, integrated calibration;
requires only 200 microliters of a sample for study;
gives the result of the analysis in 15 minutes after the introduction of the sample;
has a barcode scanner and built-in printer;
does not have replaceable parts (electrodes, membranes, etc.);
does not require additional consumables;
works with whole blood, serum and plasma;
does not require water treatment, since all the necessary reagents are in the reagent disk.
Test Parameters:
| | |
| --- | --- |
| Measured indicators: | ALB, ALP, ALT, AMY, AST, BUN, CPK, CREA, DBIL, GGT, GLU, HDL, LIPA, TBIL, TC, TG, TP, UA, Ca, Cl, K, Na, Phos. |
| Estimated figures: | A/G ratio, eGFR, GLOB, IBIL, LDL, VLDL |

Types of reagent disks for Skyla HB1:
| | |
| --- | --- |
| Name of the disc | Measured and calculated indicators |
| General Biochemistry | ALB, ALP, ALT, AST, BUN, CREA, GGT, GLU, TBIL, TC, TP, UA, A/G ratio, eGFR, GLOB. |
| Basic biochemistry | ALB, ALT, BUN, CREA, GLU, TP, UA, A/G ratio, eGFR, GLOB. |
| Metabolic | ALB, ALT, AST, BUN, CREA, GLU, TP, UA, Ca, Cl, K, Na, Phos, A/G ratio, eGFR, GLOB. |
| Metabolic II | ALT, AST, GGT, GLU, TC, TG, VLDL. |
| Hepatic | ALB, ALP, ALT, AST, DBIL. GGT, GLU, TBIL, TP, A/G ratio, GLOB, IBIL. |
| Renal | ALB, BUN, CPK, CREA, GLU, Ca, Cl, K, Na, Phos, eGFR. |
| Lipid | GLU, HDL, TC, TG, LDL, VLDL. |
| ER | ALT, AMY, AST, BUN, CPK, CREA, GLU, LIPA, Ca, Cl, K, Na, Phos, eGFR. |
| ERII | ALB, ALT, AMY, AST, BUN, CREA, GGT, GLU, TBIL, eGFR. |