Light, Flexible
Real-time accurate vein display
Multi-application Wide adjustment of distance and direction
For different wave-length near-infrared, the absorption between blood hemoglobin and periphery tissue is different.
Through photoelectric conversion and image processing, to show the vein clearly by machine.
Features
Windows system provide a stable prompt function performance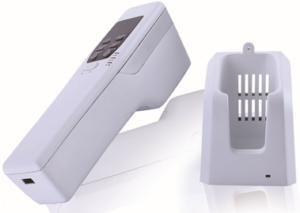 Fully digital image acquisition provides a high screen frame with excellent fluent continuity of image
Various color display mode provides vein's identification effectively and image resolution, indicate vein's depth.
Advanced optical structure design assures an excellent vein recognition rate and provides original position projection.
High quality patent products, anti-interference and reduce the radiation effectively, stable and safe.
Application
Injection section, Lab blood collection room, Pediatrics, Micro plastic department, Peripheral vascular Department ex laser therapy, sclerotherapy, Vascular surgery's thrombosis observation, cerebral infarction patient 's scalp vein observation by neurologist, etc
To help & support the observation of venous imaging.

For different people need to observe the vein, ex: Infants / Children / Obese patient / Burnt patient / Skin disease patient / Edema patient / Heart disease patient / Tumor and chemo therapy patient / Health assessment / Monitoring therapeutic
Clinical Application: Peripheral vascular lighting: transfusion room, blood collection room, testing room, etc.